Common Signs & Symptoms in Infants, Children, and Adults:
Common Signs & Symptoms in Infants:
"Colic"/Excessive Crying/Fussiness
Gassiness/arching when nursing or bottle-feeding/gulping air
Gagging/choking while eating
Drooling
Difficulty swallowing
Spitting up excessively/projectile vomiting
Hiccups
Reflux/silent reflux
Sounds congested
Nursing abnormally often or long nursing sessions with short breaks but still seems unsatisfied
Falling asleep quickly while nursing (fists are closed and baby seems tense)
Nursing blister on baby's lips
Breastfeeding issues (not limited to: thrush/milk tongue, clogged ducts, mastitis, bleeding or cracked nipples, vasospasms, "lipstick shape" or flattened nipples after nursing)
Oversupply/undersupply
Refusal to take breast, bottle, or pacifier
Slow weight gain, weight loss, or excessive weight gain
Shallow latch or poor latch
"Clicking" sound while eating
Bobbing or slipping on and off breast
Gumming/chewing nipple
Upper lip curls inward when latched
Milk leaking from mouth while feeding
Biting during nursing
Premature self-weaning (before 2 years)
Unable to hold the pacifier in the mouth
Torticollis
"Scoot crawling" or not crawling at all and going straight to walking
Carseat discomfort/carsickness
Sleep issues (apnea, mouth breathing, snoring, or "sleeping hot")
Heart-shaped tongue tip/dent or crease down the center of the tongue
Body tension
Mouth open at rest
Breathing sounds (snoring, snorting)
Recessed chin/jaw
Burping difficulties
Sucking on hands, fists, and fingers
Tremors/involuntary movements
Sacral dimple/stork bite
Mom has depression/anxiety
Common Signs & Symptoms in Children:
Speech issues; delay and or lisp
Sleep apnea, snoring, night terrors, nightmares, sleep walking, or sleep talking
Swollen tonsils and adenoids – chronic sinus issues and throat problems
Behavioral issues, meltdowns, and ADHD-like symptoms; including ADD/ODD/OCD
Migraines and Headaches
Digestive Issues; constipation, reflux & IBS
Choking, vomiting, or gagging on food or liquids
Drooling
Food falling out of the mouth, using fingers to move food in the mouth, pocketing food in the cheeks, or food getting trapped in gums, palate, or cheeks
Picky eating; food and texture aversions
Jaw issues, TMJ, or grinding teeth
Recessed jaw/chin
Malocclusions (overbite, underbite, open bite, overcrowding, crossbite, a gap between front teeth, or bottom teeth angled into an inverted V, etc) or crooked teeth requiring braces
High palate
"Clumsiness" or affected posture
Bedwetting or issues with toilet training
Chronic ear infections
Chapped lips
Dental & oral health issues: cavities, premature decay, and or bad breath
Allergies/Eczema/Asthma
Venous pooling beneath the eyes – dark circles beneath the eyes
Changes in head posture – posturing the head forward and/or tipping the forehead backward
Scoliosis and Torticollis
Diagnosis of apraxia
Chronic sinus infections
Flat feet
Deviated septum
Sensory issues
Anxiety or depression
Trouble sleeping; waking up frequently
Tiring easily while speaking or reading aloud/daytime drowsiness
Insufficient development of the palate (narrow palate)
Difficulty swallowing liquids, food, or pills
Delayed or stunted growth
Irritability/anger/aggression
Difficulty in school (math, science, spelling)
Car/motion sickness
Often associated with Ehlers-Danlos syndrome
WHAT IS SLEEP-DISORDERED BREATHING?
Can Tooth Extractions Cause Sleep Apnea?
Common Physical Signs in Adults:
Forward head posture

Recessed chin or jaw

"Long face syndrome"

Gummy smile 

Bunions

Scoliosis

Torticollis

Dowager's hump

High or narrow palate

"Buck" teeth

Overbite, underbite, or open bite




Forked or scalloped tongue




Crusty or chapped lips




"Small" mouth




Narrow or misaligned jaws




Crooked or crowded teeth/needed braces




Premature wrinkles especially around the eyebrows




Horizontal wrinkles on Cupid's bow's dimple when smiling




Smiling with the tongue resting in between teeth

Smiling with both upper & lower teeth or lower teeth only
Flat feet
Deviated septum
Common Symptoms in Adults:
Neck, back & facial pain

Digestive issues- IBS, constipation, or reflux

Allergies and sinus issues

Sleep apnea
ADHD/ADD
TMJ or clicking in the jaw
Grinding teeth

Headaches and migraines

Cavities, gum disease, or halitosis

Choking on liquids 

Drooling while sleeping
Swallowing issues (tongue goes forward when swallowing)

Food trapping in the palate, gums, or cheeks

Issues with food textures

Speech difficulties when talking fast, tired, or with small amounts of alcohol

Difficulty or pain opening mouth wide

Pain or discomfort with kissing

Bladder issues

Anxiety or always feeling highly strung

Pelvic floor issues and diastasis recti
Nail-biting
Vertigo/dizziness
Car/motion sickness
Tinnitus (ear ringing)
Facial pain after a long conversation or smiling
Difficulty swallowing pills
Difficulty with dental x-rays
Gagging if brushing or drinking liquids
Often associated with Ehlers-Danlos syndrome
If you suffer from one of the following TMJ symptoms it may be linked to your tongue tie: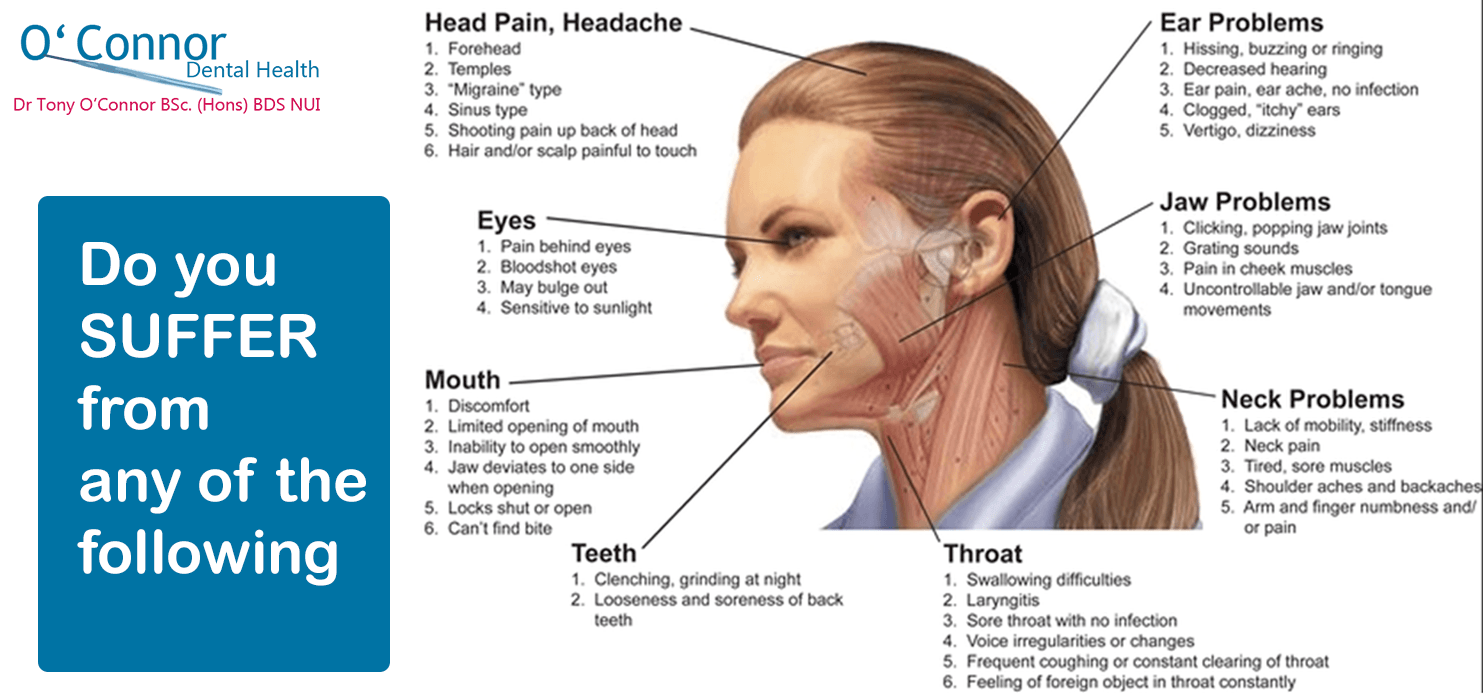 Effects of Sleep Apnea Due to Tethered Oral Tissues:
Difficulty concentrating
Weight gain
Gastric reflux or heartburn
Anxiety & depression
Poor memory
Loud snoring
Restless sleep
Intermittent breathing stoppages during sleep
Cardiovascular issues
Waking up with a headache
High blood pressure
Erectile dysfunction
Hyperactivity
Diabetes
Excessive daytime sleepiness or fatigue
Napping or Dozing off
Irritability & Moodiness
Restless Leg Syndrome
Obstructive Sleep Apnea is often caused by underdeveloped jaws:
An obstructed airway may present with the following symptoms:
Hypertension
Snoring
Anxiety
Allergies
ADHD
Headaches
Diabetes
Alzheimer's
Obesity
Depression Fibromyalgia
Asthma
Anxiety
Dementia
Hypothyroidism
Aggression
Restless Leg Syndrome
Rheumatoid Arthritis
Tooth Loss Associated with Greater Risk of Cognitive Decline and Dementia
Learn More:
A Beginner's Guide to Tongue Ties – For All Your Tongue Tie Questions
The Ultimate Guide To Tongue-Ties
An Introduction to Lip Ties – Why It Is a Serious Condition, And What to Do
How Upper Lip Ties Prevent The Hard Palate From Lowering
Pictures of Classification/Types of Lip and Tongue Ties
Breastfeeding Issues That Are Signs of Ties
Is Your Baby a Tether-Berg or a Tether-Floe?
Tongue Ties+Lip Ties; A Hidden Cause of Poor Sleep?
Is Your Baby Tongue-Tied? An Ankyloglossia Bodywork Practitioner May Help
Signs & Symptoms | United States
Step By Step Guide To Checking For Tongue & Lip Ties
Is Your Tongue Causing Your Health Problems?
Tongue-Ties and Sleep Issues (and More!) by Richard Baxter, DMD
Benefits of Tongue Tie and Lip Tie Laser Surgery
Tongue Tie from confusion to clarity: Consequences of Untreated Tongue Tie
Consequences of Untreated Tongue Tie March 2019
Understanding The Effects Of Tongue Ties In Adulthood
More than 5 Things About A Tongue-Tie You Didn't Know by Shirley Gutkowski, RDH
Do Tongue-Ties Go Away? Do They Stretch Out?
Videos:
"Do I Have A Tongue-Tie?" – 5 dimensions of tongue-tie assessment, Dr. Zaghi – The Breathe Course
Feeding or Swallowing Problems Due to High Palate or Tongue Tie (Discussion of Normal Swallow vs Someone with a Tongue Tie)
The Tongue's Effect on Craniofacial Development by: Daniel Lopez, D.O.
Assessing The Effects Of A Tongue Tie: Osteopathic Considerations by: Daniel Lopez, D.O.
Los Angeles Chiropractor, Dr. Christine Anderson, interviews El Segunda, CA dentist, Dr. Sandra Calleros, DDS on Lip and Tongue Ties.
Aerophagia Induced Reflux  – "AIR" Associated with Lip and Tongue Tie in Breastfeeding Infants
TMJ and Airway Video: